The pursuit of speed and adventure…
06/08/08
Sunday morning I woke to clouds, and showing up at the track I knew it would rain, but the SXV is not only fun in the dry it was the only bike out there in the pouring rain when they made the rest of the day "open track". Which translates into.. if you don't feel like riding - we don't blame ya.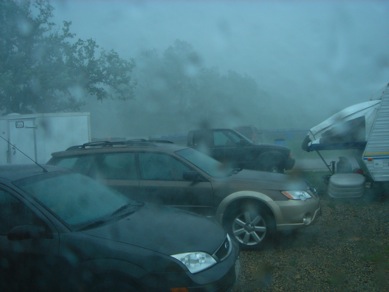 The view from inside my truck.. the wind trashed many guys race canopies, and camping gear.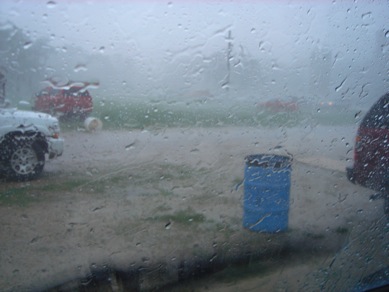 When the Monsoon let up, I went out there on the same Pirelli slicks (No grooves) and ran in a steady rain. I had the most fun sliding the front and back around the tight course, and while I'm sure some betting was taking place in the pits, I never put the bike down, despite an… off track excursion in turn 1 when I was relying on the slipper clutch to do it's thing when I accidently grabbed too many down shifts and cost myself any marginal traction I might have had.
I could barely get back ON the track as the rear tire would just spin in the soupy grass and fail to propel me forward.

After about 2pm, when most people took off, the line started to dry out and the sun broke through the clouds. By 3pm I was running in the dry and was taking the opportunity to go tank to tank (And a splash of oil every now ad then) to get in as many laps as I could. Gearing was still bad (Need a longer chain) but the head shake was fixed, and I could carry more speed on the front straight.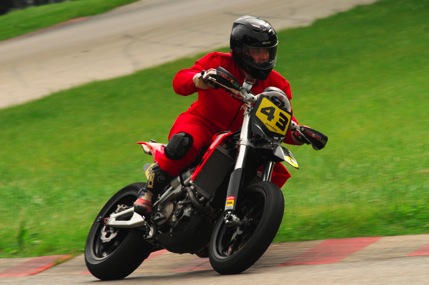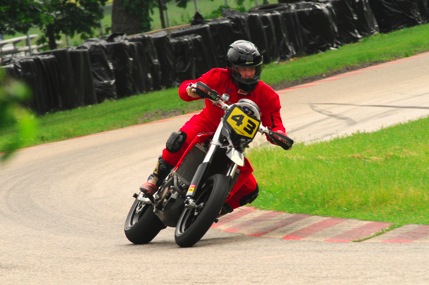 Credit has to be given to the photographer who himself is a racer, and pretty damn good at that too. !